Let Your Taste Buds Dance!
Free Wagyu Filets For a Year When you start your Wagyu Box Club Subscription!
Value of $758
Order Before 10-01-2023.
Certain Limitations apply see below for more details.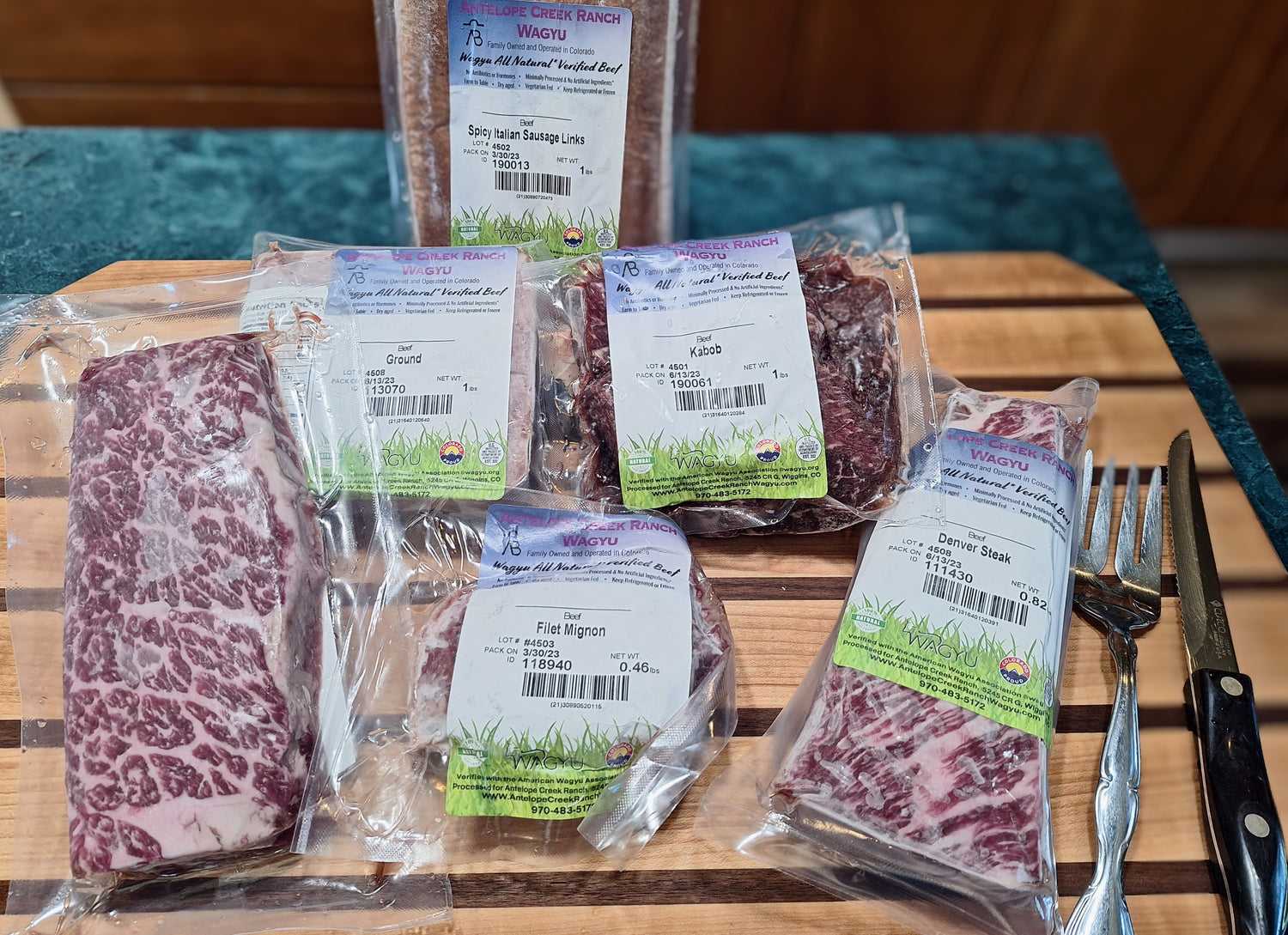 Wagyu Box Club
Your Passport to Culinary Bliss and no worries on Wagyu Excellence.
With FREE Shipping!
How it Works
Choose between our small (5-7) meal box or our medium (10-12) meal box.

Choose your Frequency of Every month or every other motnth.

Every month we hand select Farmer choice above prime wagyu cuts and set you up with a culinary plan for all your meals. 

Get a treasure trove of delectable Wagyu beef right to your doorstep and enjoy better beef that will forever change your standard.

These are mouth watering Wagyu cuts that could be included in your box:
    New York Strip Steak, Denver Steak, Flat Iron Steak, Bavette Steak, Sierra Steak, Top Sirloin Steaks, Skirt Steak, Flank Steak, London Broil Steak, Kabob Meat, Stew Meat, Pot Roast, Ribs, Ground Burger Patties, Chuck Roast, Italian Sausage Links, Bratwurst, German Bratwurst, Bulk hamburger,And More...
    We just might surprise you!  In addition we may throw in a Specialty Item or a NEW Product!
Regular price
$287.94 USD
Regular price
Sale price
$287.94 USD
Unit price
per
Sale
Sold out
Share
View full details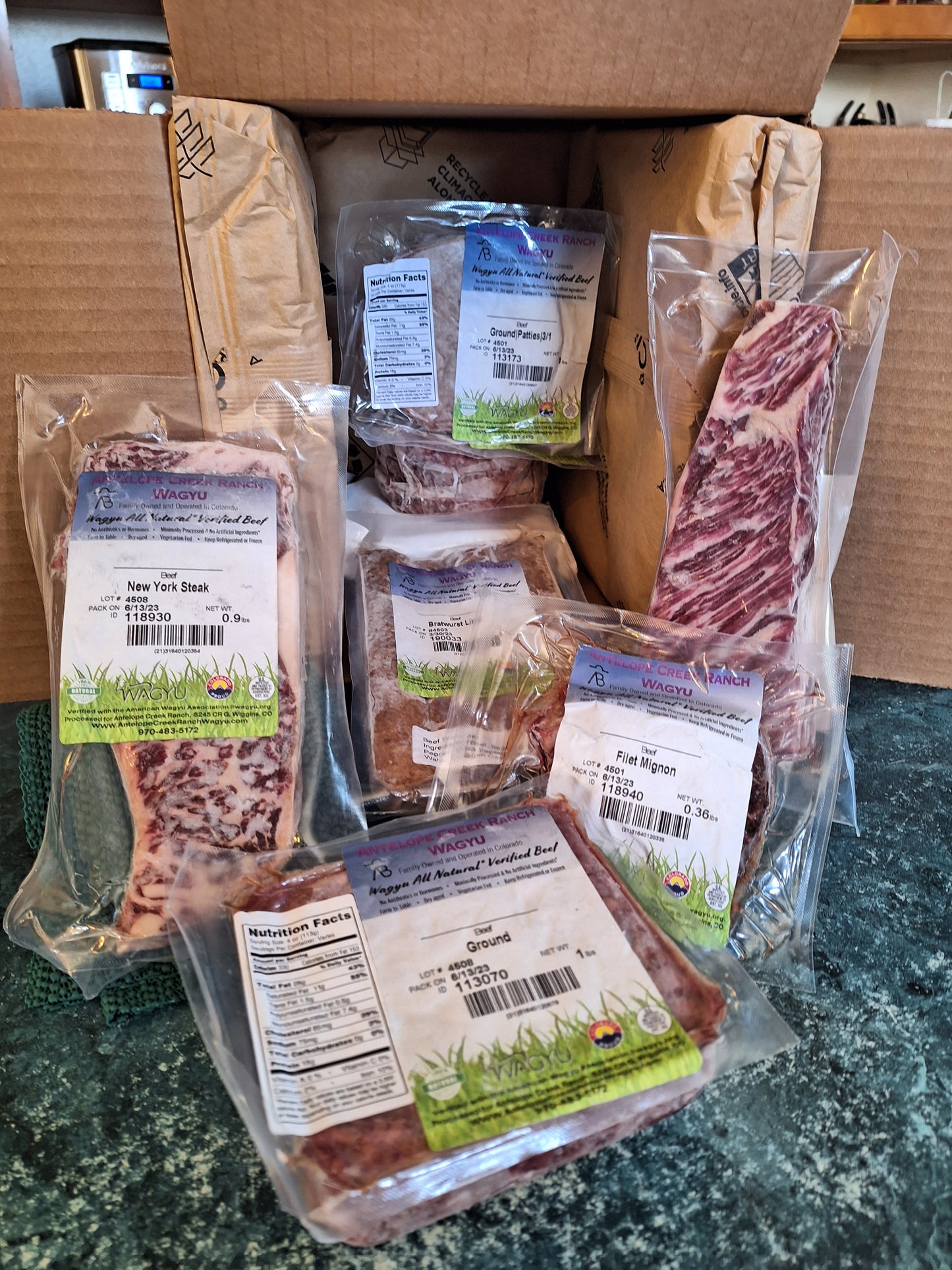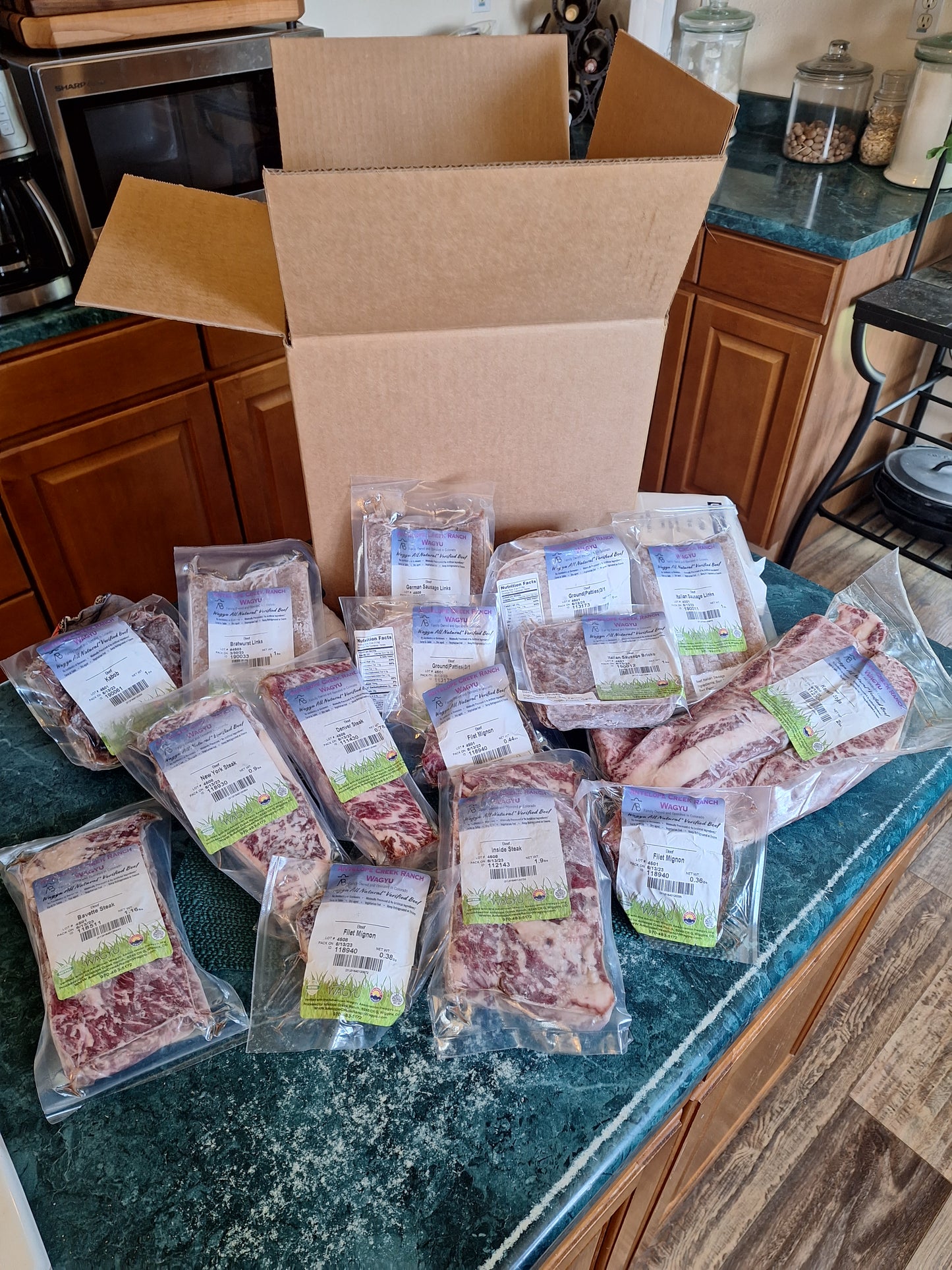 "This was the best steak I have ever eaten in my Entire Life!"

Bill, Coloraod

"Amazing is all I can say...I'm a forever customer!"

"Wow! Wow! Wow! It surpassed every expectation of flavor, and melt in your mouth bliss!

Karen, Colorado
Frequently Asked Questions
How do I get Free Filets for A YEAR?

Subscribe to our Wagyu Box Club and Receive an extra Free Wagyu Filet Mignon in your Box Every Month.

You Must Sign up Before 9-27-2023!

You will receive a Filet in your box at no additional charge for an entire Year!

That's 12 Filets Free! A value of $758.00
What types/Cuts of Wagyu will I get?

We'll Hand Select your specific cuts, such as a Flat Iron Steak, etc. Our customers love that every box has something new to try and a variety of the old favorites.
What types of Subscriptions to you have?

We have 2 different sized plans to choose from:

#1 - is our small box that is about 5-7 family meals.

#2 - is our medium box that is about 1-12 Family Meals.

Then you choose the frequency:

#1 - Monthly

#2 - Bi-Monthly (Every Other Month)
What Does Shipping Cost?

As and Introductory Offer Shipping is Free on all Boxes!
Where Does the Wagyu come From?

All of our Wagyu Beef is from Antelope Creek Ranch Wagyu here in Colorado!
Can I Cancel the Box Blub Subscritption?

If you decide our Wagyu Box Club isn't right for you, we understand. You can easily cancel your subscription at any time. There are never any fees.

You're always welcome to Join the club again if you change your mind!

If you cancel your subscription after an order has already been processed, you will still receive and be charged for that order.
When Will My Box Arrive?

Your Wagyu Box should arrive 2-5 business days from when you are billed.

You should receive a tracking number for your box once it is shipped.
What Should I do With my Wagyu Once it Arrives?

You don't have to be home to accept your delivery. Refrigerated or freeze your order as soon as possible.

When delivered on time and retrieved within 6-8 hours of delivery, your Box should arrive refrigerator cold or below 40°F.

Your Wagyu could arrive partly frozen (solid) or frozen and can be placed in the freezer for later use.
Is Your Wagyu Clean Beef?

Absolutely! We have very high standards that we follow in ensure that every cut is completely All-Natural.

All-Natural to us means = animals raised without any antibiotics, steroids or growth promotants.

Our animals are ethically raised and processed with extremely high standards in place.

Wagyu Beef that is from a smaller Farm like ours is absolutely guaranteed to be clean and ethically raised!
What does Farm to Table Mean?

All of our Wagyu receive an ID tag at birth.

This tag has recordings of every event (weights, date of weaning, etc.)

This also verifies the DNA of each animal that proves they are Wagyu.

Just like in Japan, with each having a nose print to verify each steak. We have DNA and an ID on every package of beef.

Therefore our Wagyu is truly Farm to Table.
Our Guarantee
Our Wagyu beef consistently offers the most exquisite flavor profile and juiciness that you'll find nowhere else!
Our pledge is to address any issues promptly and ensure your beef experience is exceptional!
Questions...Comments...Contact Us Today!